Request your Hen Brochure!
Before you request your brochure, I just wanted to tell you a bit more about Bistro Live. Scroll down to receive your brochure.
Check out some of our great reviews!
"Made me feel like a proper bride to be!!"
Absolutely amazing night!! we went here for my hen do on Friday 30th. the staff couldn't do enough for you, I really enjoyed my 3 course meal, service was quick, made me feel like a proper bride to be!!
Emma-Lee Anthoney
"The staff were incredible!"
Hi, so I just want to say thanks a million for making my hen do one to remember It was incredible. The staff were incredible and and so accommodating. I will definitely be back. I just want to say thanks to our waiter Kilen he was just brilliant x x
Monica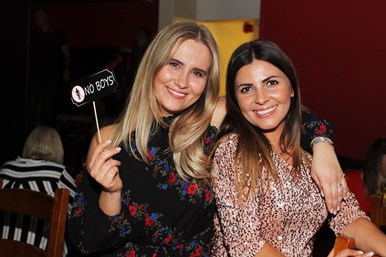 Hen Party Check List
Choose who will organise your hen party - Often the maid of honour, hen's mother or even the hen herself – Even better, let us do it for you!
 Choose who to invite - Our average hen party size is 15 people, but we can book you in for 6 or 60! Take away the risk of ending up with empty seats by starting with the minimum and adding people on as they confirm. Don't forget to invite the mother-in-law!
 Figure out the parties budget - Whether you're wanting a simple night out, or you'd like to add some of our brilliant packages to make your night extra special, or even if you want to make a weekend of it, we will make sure your night fit everyone's budget.
 Pick your venue  - Well, if you want a fun-filled night guarateed to keep you on your feet and dancing until the early morning, you know how to get in touch! We aim to give you a seamless, stress-free night and our venues in Leicester, Nottingham and Milton Keynes are guaranteed to welcome you on your special night.
 Choose a theme  - Think about coordinating colours, fancy dress or just dressing up! Take a look at our hen packages for more details about our party decorations and hen bags, or bring your own decorations!
 Find a date that works for everyone - This is the trickiest bit! Most of our hen parties tend to book in 4 to 6 months before giving everyone plenty of time and getting it ticked off the list! But, I have to warn you many of our spring and summer weekends sell fast. Take a look at our entertainment line-up on our What's On guides
 Secure your hen party - No need to collect deposits from everyone with our sharable payment link. Paying made easy with our bespoke booking system – everyone pays their own £10 deposit. We'll tick each deposit off and email you each time someone makes a payment.
 2 weeks to go! Make your payment  - Don't worry about having to pay straight away! The final balance isn't due on your Bistro Live hen party until 2 weeks before. Remember to pre-order some drinks so they're ready for when you arrive – strongly recommended! Will it be cocktails or bubbles?
 Put your heels on – It's hen party time - This is where all the planning and picking the right venue pays off! Not much else to do apart from relax and turn up on time for your last night of freedom (...there's always that one late friend!) You choose your meal on the night, as it's cooked fresh to order. So there's no running around collecting everyone's food order and forgetting what you chose on the night! Take a look at our upcoming menus.
 Leave your feedback - We always welcome your feedback and have tonnes of great 5 STAR reviews from hen parties that have been in 2019 alone!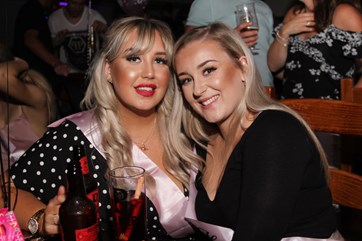 There's only one more step now... Fill in your details to receive your own brochure!
By clicking the 'Request Brochure' button above you agree to us contacting you in order to deal with your hen party enquiry.
Please note - we will process and use your data in accordance with our Privacy Policy.