Hen Parties: Top Essentials For Planning An Unforgettable Hen Party
Hen Parties: How to Plan an Unforgettable Hen Party
05/02/2023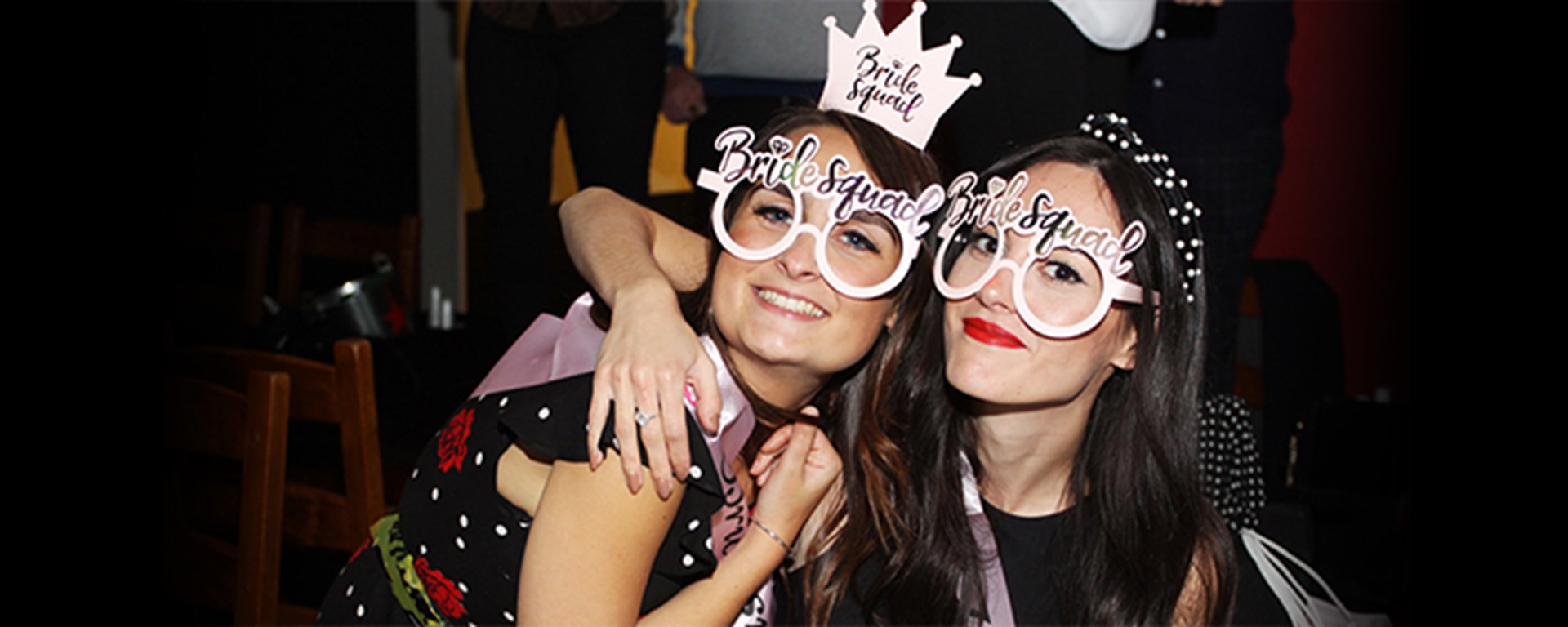 Right, it's down to you to make the Hen night absolutely amazing. Everyone needs to have a great time, and dance the night away… oh God, where to even start?! 
We know this can be an utterly daunting task, but relax! We've got you all covered - welcome to the one and only guide you'll need to organise the Hen Party of dreams. At Bistro Live, we've had over 20,000 Hen Parties enter our doors and moonwalk across our stages, so we know EXACTLY what the dos and don'ts of Hen Nights are.  
Planning a Hen Party is hard, there are SO many things to consider, trust us, this is not going to be a walk in the park. If you have organised one before, that's great, but if you haven't you need not worry, we're about to turn you into the Ultimate Hen Party Planner! Everyone will soon want you to plan their parties too. 
We'll take you through everything, from budgets to themes, to accommodation and gift bags, we'll even share some of our all-time top tips. So without further ado, grab a glass of wine and let's get straight into it. 
First thing's first, collecting ideas and finding out what people (and most importantly, the Hen) want to do. 
Nowadays, there's such a variety of activities you can enjoy, and better yet, you can pick as many as you want! 
From axe throwing to cocktail making, afternoon tea, or even a hen getaway, it's going to take ages just to narrow it down, so let's get started.  
Set up a group chat with some, or all of the guests and ask them what hen parties they've enjoyed previously. You could organise something along the same lines so you know it's going to be amazing, or you could opt for something completely different, so the Hen Party really is a unique and unforgettable experience. 
Are there any Hen Parties they went to that they didn't enjoy? What were they, and why? Probably best to steer clear of those.  
Top Tip:
Remember who this event is for, you may want to try and please everyone (even the bride's mum) but this simply won't happen. The worst thing you could do is to organise an arts and crafts afternoon for everyone to join, when the bride simply wants bottomless bubbles surrounded by her friends. 
The next thing you need to figure out is cost! 
So, your top ideas consist of scuba diving in Marbella and skiing in the French Alps… but hold on a minute, is this really a realistic budget for everyone? It's crucial to find out how much everyone is willing to spend, it may mean searching Airbnb for a UK hen getaway instead - just as fun, maybe with a spa, but won't break the bank. Again, it may mean sacrificing one of the activities on your list, or maybe choosing a slightly more affordable restaurant or bar - make sure you know how much you've got to work with. 
Also! Don't forget the bridesmaids and other attendees usually cover the cost of the bride's hen party place too, so make sure this is factored into everyone's budget.  
Focus the budget on the important parts so you're not sacrificing an activity or venue that was more of a priority for the bride and other people. This way, anything else in addition to the key event is a bonus! If you want to go out for a meal but also be entertained, enjoy a great atmosphere, and drinks plenty of cocktails, why not find somewhere that does it all at the same time, in the same place, like Bistro Live? 
Another top tip is to set the tone for the rest of the day by pre-ordering your first round of drinks. By saving a little bit of your budget to incorporate this, you'll be left with a very impressed bride. Many venues (like Bistro Live) offer discounts if you order drinks ahead, so you're saving money too – fab! It's an investment, you'll never lose out on and of course, you can get the party started as soon as you walk through the door…  
It's a wise idea to keep back up activities or venues in mind. As we said, it's not smooth sailing, even if you plan every single aspect, there may be unforeseen situations or unexpected costs – we hope there's not both!  
Deciding what you are going to do and when 
So you've collated some wonderful ideas that you know people are going to love, and stay within the budget, (*pat on the back / rewards self with Prosecco*). The next thing on the list, is to organise them into fun filled afternoon, day, or even weekend – let's be realistic, it may be a better idea to save the cocktail masterclass until late afternoon rather than first thing in the morning.  
If you want to enjoy multiple activities then using a package creator is a great idea, one of our favourites is Chillisauce. You can build and edit your ultimate hen event and contact all the different companies about their offers or activities, all from one place – so easy. Question is, can you spot us on there? 
Whether you're a smaller hen party or a large hen group, there is going to be something perfect for you all. Will you be going with a packaged hen party? Or will you be keeping it simple – maybe a dinner at a local restaurant followed by some tasty cocktails and some live music? Well, why not do all of it? (that's the beauty of Bistro Live – everything is under one roof!). 
The other thing you will need to consider is when people are available, is there a weekend where half the guests can't actually make it? Try to pick a date that as many people can make as possible. 
Keep in mind, when planning a hen party, people set a date around six months in advance. We know from experience that it's better to have extra time to plan than have too little and rush everything. Everyone can tell the difference, and you can end up overlooking the little details that really make the hen party stand out from all the others.  
Picking a date so far in advance means you can secure your spots and ensure you don't miss out on activities – if you leave it too late, you open yourself up to fully booked venues who may turn you down, absolute nightmare.  
Okay, next thing – accommodation!  
You're going to want a nice place to wake up to when you're working through a hangover, so factor this into the budget and make sure everyone is happy. The great thing about the accommodation is that you can make it a feature of the hen do as well. It's a great idea to book something exciting like a fancy glamping getaway, an airstream, a hotel or a big house for all your guests. There's plenty of variety whether you're looking for something in the UK or internationally, Airbnb is a great place to start. Now is the time to think about transport too, will you need a taxi from your accommodation to your venue? Or maybe you need one at the end of the evening when your feet literally can't take any more dancing? 
So, what theme will you be rocking? 
At Bistro Live we have had so many themed Hen Parties through our doors, from the Pink Ladies to Disney characters, a Bride Tribe vibe to a colourful 80's theme, you name it, we've probably had it. It's a bit of fun, a great way to get creative and everyone loves it, the question is, who do you think will win best dressed? 
Date = secured.  
Activities & Accommodation = check 
Theme = SORTED 
Now just send out all the information so the guests can RSVP – you can create some pretty invitations that people can keep as mementos, email round or just pop a message in the group chat. If you tell everyone to reply within a certain time, you'll have a good idea on numbers, so you can start to book the Hen Do activities as soon as possible and for just the right number of people. 
Think about the food… 
This is an important one if the hen do is over multiple days meaning you need to cater for several meals. If you're staying overnight, locate a few nearby restaurants or cafés that will serve you some hangover curing breakfast and delish afternoon snacks! Most hotels have the option to add breakfast to your stay anyway which is great. If you need to book anywhere for a bottomless brunch or afternoon tea, do it early to avoid disappointment, and make sure the food is catered to all.  
It's easy to forget about allergies and other dietary requirements so make sure your suggested venues cater to all the guests and let the venue know in advance. 
Okay, time to get the money out of the way.  
Now this goes without saying, the sooner you get it all rounded up from the girls, the easier your life gets, as the Hen Planner. Why not invite everyone round for a wine night and you could get it all done right there and then. It can be a nightmare to chase the last few people so make sure you keep on top of it – you don't want any awkward situations, let's be honest.  
Once you've booked and paid for everything, it's time to sit back and relax! The hard bit is out of the way. Phew!  
Itinerary time 
You've spent so much time planning all of these amazing things, the worst thing you could do is forget about something on the day, so make sure you create a written plan. And don't forget to make it look pretty! This is a great tool for you to refer back to and to share with the other guests, so they have an idea on what to wear and if they need to bring anything with them. We think wearing a pair of heels while parasailing is probably a healthy and safety issue. This is also a good place to put all the contact numbers for everyone too. 
The cherry on top. 
What makes a hen night extra special? And when we say special, we mean absolutely unforgettable! It's all the little extras as we mentioned earlier… This is definitely the exciting part. Our favourite extra is creating personalised Hen Bags full of goodies! You can put anything and everything in them! 
Here are a few items to include in your Ultimate Hen Party Bag:
? Itinerary and phone numbers of all the guests 
? Hen Party Badges 
? Personalised Hen T-shirts 
? A Hen sash 
? Sweets / chocolate  
? Temporary tattoos or stickers 
? Hen crowns / Hen headbands 
? Party Poppers 
? Novelty straws 
? A Hen Night Memento 
? A great and thoughtful addition is adding an alcoholic miniature to get the party started and a face mask to revitalise your skin the morning after!  
Don't forget the rest of the decorations and balloons for the places you're going to visit. A lot of these venues offer their own decoration services so do some digging and hen the place up! 
We did say it was time for the fun part… 
Head to Google and find some fun games you'd like to play throughout the hen do, it's a great way to keep people entertained, and who doesn't love a bit of competition. If you're all meeting at a hotel or the place your staying, you could start off with some Prosecco Pong! Sounds fab, right? Some other ideas could include the classic truth or dare, or 'how well do you know the bride', basically any game you can think of, but with some alcohol added to the mix. 
Another great idea is to create a great playlist for the Hen Do. Grab the girls and ask them to send through one or two songs each and you've got a 10/10 playlist that you know the bride is going to love.  
And finally, it's time to start prepping for the day. Make sure you have your outfit sorted, you've packed EVERYTHING you need and everyone is ready to go. 
Ladies, let's go!