Menu
Great food freshly prepared on the night

The food at Bistro Live has always been well received, since the day we first opened our doors in 2001. As a 'party' venue, catering for up to 300 people every night, we are experts in delivering good quality food... quickly.
Our Food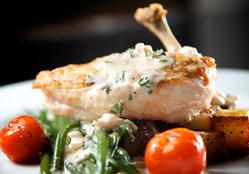 Unlike other similar venues, we offer a varied choice on our menus, we DO NOT ask you to order your food in advance, AND all of our food is cooked fresh on the premises.
The last few months have been a busy time for the Bistro Live Head Chefs! Each dish and its ingredients have been carefully selected and put to the test! But don't take our word for it - come along and taste for yourself!
The BEST thing about our food is that you do not have to find out everyone's choices beforehand. Who knows what you might want to eat over a month in advance for your birthday party, Hen party or Christmas party?  Your guests can simply come in and choose their 3 courses from the menu.

May to August 2020 Menu 
Click here to take a look at our 3 course menu for the 1st May to the 23rd August 2020. All our dishes are freshly prepared and cooked on the night, so no need to pre-order any meals - just order on the night! Any dietary requirement? Just let us know and we'll tailor a meal to your needs.
Have A Question?
If you have special dietary requirements, want to ask a question about any of our menus - or just want an expert's opinion about any recipe you're trying to master - email it to our chefs who will be only too happy to help!