2021 Office Christmas Party: Leicester Edition | Bistro Live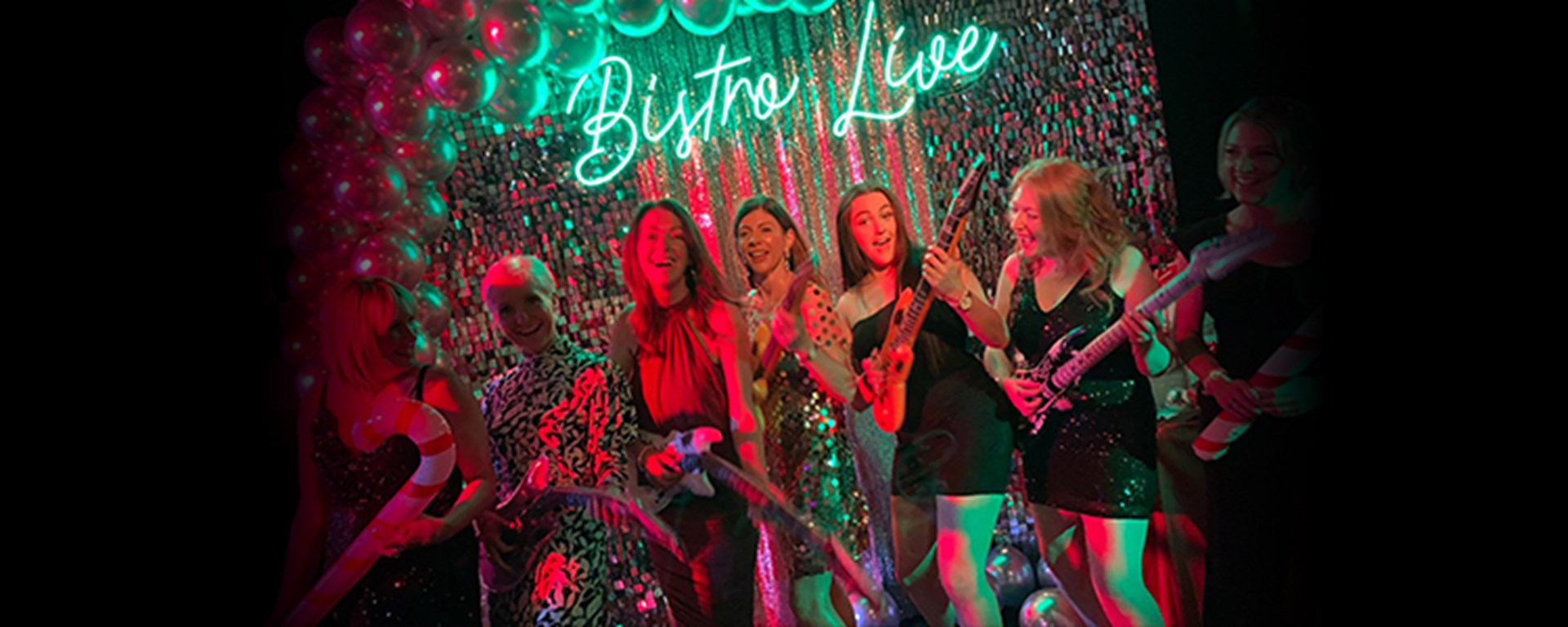 The lead up to Christmas is an exciting time for all. Everyone has that ONE festive activity that they look forward to each year, whether that's decorating your home with lights, baubles, and tinsel or tucking into a delicious Christmas dinner when the big day finally arrives. But for those of us left in charge of organising the office Christmas party, this time of year can leave us feeling overwhelmed. With so much to consider, where do you start?
The first step of deciding which Leicester party venue to host your Christmas do can often be the most difficult - especially if you have a large group. But fear not! This year, the team at Bistro Live is here to help! If you're looking for a venue to host your large private or corporate Leicester Christmas party in 2021, check out our top 5 choices below.
1. Bistro Live
Of course, we can't tell you all about the best Leicester party venues without mentioning ourselves! Here at Bistro Live, our ultimate goal is to help all of our guests make the most out of every celebration, especially your Leicester Christmas party - and this year, it is more important than ever! We can accommodate groups of 2 through to 260 guests, providing you with a freshly prepared, mouth-watering 3-course meal, the UK's best party bands, and an electric atmosphere from start to finish. We pride ourselves on going the extra mile with our exceptional service, so what are you waiting for? Get in touch with us today to find out more and celebrate like VIPs this Christmas!
2. Leicester City Football Club
Forget football and think fantastic festive party! Leicester City Football Club is home to a diverse range of fun-filled Christmas parties for up to 550 guests. Complete with a tasty meal, great service, and lively entertainment guaranteed to get your entire group up and dancing. This is what makes LCFC one of the favourite office party venues in Leicester!
3. Showcase Cinema de Lux
Looking for something a little different to your typical works Christmas party idea? Showcase Cinema de Lux in Leicester might have the perfect option for you and your colleagues! Treat yourselves to a showing of one of the latest must-see movies while relaxing in the utmost comfort. The packages available come inclusive of the full VIP experience as well as a range of delicious refreshments to choose from. This cinematic experience is ideal for all party sizes, catering for up to 395 guests.
4. Mercure Leicester The Grand Hotel
Visit Mercure Leicester The Grand Hotel for an all-inclusive office Christmas party this year. This venue has you covered for the entire evening where you can enjoy a scrumptious feast, your favourite tipples, and a classic festive party afterwards! Plus, you and up to 299 other guests won't have far to travel at the end of the night as accommodation is included in a number of their Christmas party packages!
5. Leicester Tigers
With an exclusive capacity of up to 850 guests, Leicester Tigers is a great option for your large corporate Christmas party in Leicester. Guaranteed to provide you with a delicious meal, an entertaining DJ, and a fantastic night all round! With a number of unique suites to choose from, this is another of our favourite Leicester corporate parties.
For more information on office Christmas parties at Bistro Live in Leicester, get in touch with our friendly team today. We hope to see you celebrating with us this festive season!