Christmas Parties
A Christmas party people will be talking about for years to come!

Great Christmas parties in Leicester, Nottingham and Milton Keynes!
Our aim to make sure that everyone who comes to us has an unforgettable Christmas party – one that people will be talking about for years to come for all the right reasons… Christmas parties are our speciality and this will be our 17th year throwing them, so we've got pretty good at it! Request your copy of our Christmas brochure sent out by scrolling down and following the link below! Plus be sure to take a look at our Special Offers section for discounts on selected festive dates!

The Best Party Atmosphere in Town!
Last year alone we had over 1200 Christmas parties come through our doors – that's nearly 20,000 people
whose Christmas parties we made one to remember!
We've got your Christmas party all wrapped up this year with our stunning decorations, our exciting three course meal, loads of entertainment for you to choose from and a party atmosphere that will keep everyone dancing all night long! You'll spend the whole jam packed night with us, from 7pm until we close at 1am. All of your night is taken care of under one legendary roof, meaning you don't have to move from bar to bar and queue for drinks! Request your copy of this year's brochure here!
A Stunning New Theme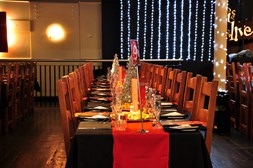 Step off the grey city streets and into our stunning venue! Bistro Live is completely transformed for Christmas parties, with thousands of twinkly wall lights, dramatic draping, spectacular Christmas trees and glitzy decorations. You can dress to impress or come as you like! Click here to see what others had to say about their Christmas parties with us!
Organising Made Easy
Being the Christmas party organiser can be a really stressful task. The pressure is on; finding the right venue – collecting payments, food choices dietary requirements – the list goes on.
At Bistro Live we've taken most of that stress away. Booking your night out and getting it all organised doesn't have to be a hassle. With our payment system it can all happen how YOU'D like it to happen.
You just book it in and decide the details with your own personal party planner.

Once this is done they will send you a payment link that you can share with everyone using email or social media.

Then everyone pays for themselves.
But how do you keep track? Don't worry, we send you an email everytime someone makes a payment, that way you can keep track of it all!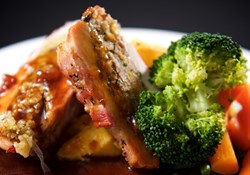 Fantastic Mouth-Watering Food
Our new 2018 Christmas menu, will have a great choice of 5 starters and 5 main courses that will be created, tried and tested by our dedicated chefs! With lots of choice bursting with vibrant fresh flavours, all our ingredients for your 3 course meal are delivered and freshly prepared to order on the day. What's more, you order your food on the night, so you don't have to remember what everyone wants and tell us beforehand (phew!). If you've got people in your party with any special dietary requirements… NO PROBLEM! Our head chef can either speak to them before hand to tailor a meal to them or there is usually something suitable on the menu. 
Award Winning Service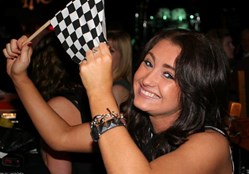 You'll be waited on from the moment you walk in with our award-winning service. So say goodbye to elbowing your way to the bar. Simply wave a flag and our friendly staff will come over and make sure you you've got everything you'd like. Leaving you to get on with your Christmas party!
Our Nights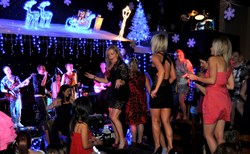 Whether you choose one of our top live band nights or one of our disco party nights, you'll be up dancing to the biggest hits, old and new! All nights include music from throughout the decades… so there's guaranteed to be something for everyone. Plus our DJ will take your requests late into the night. You'll be blown away by our festive party atmosphere!